Originally published by the Vital Voice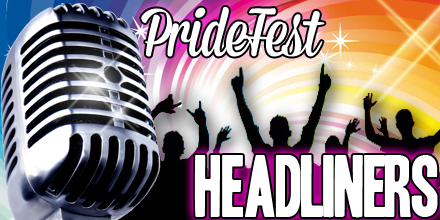 SUZANNE WESTENHOEFER
Special Guest Emcee
Main Stage, 6/29
5-9 p.m.
Written by Denny Patterson
Gracing St. Louis Pride with her presence on Saturday, June 29, comedian Suzanne Westenhoefer will be emceeing on the main stage from 5-9 p.m. Known as fearless, bold and unapologetic, Westenhoefer has made a career out of telling the truth – there is no limit. Most of her work is unscripted and unrehearsed, so every night she's on stage, it's an unpredictable and original show.
Westenhoefer began her comedy career in the early 90s delivering gay material to straight audiences in mainstream comedy clubs in New York. She soon became the first lesbian comedian to have an HBO Comedy Special, which resulted in her being nominated for a Cable Ace Award. Westenhofer performs over 100 shows a year at theatres, clubs, colleges and practically any other venue that can be thought of.
So, how does it feel being known as the country's first openly gay comedian?
I honestly do not think I'm known as the country's first openly gay comic, I think people give that title to Ellen. But there were quite a few of us working and being all open and queer before her. I'm just the first to make a fuss and be open (in 1990) in the straight clubs. In front of the straight audiences. And it was FUN. And scary…and I'm glad to have done that. I opened that door.
Can you tell me how you fell into the world of comedy?
I became a comic because I was dared to try it. It worked out. I never looked back. It was a chance to be an entertainer AND activist. Everything I wanted.
Was it difficult for you in the beginning?
It was not hard ….ever….I have the best job in the world. Were there people who didn't want me to be open or who were mean or ignored me because I was out before it was popular? Yes. No biggie. Still loved doing it.
What's the hardest part about being a comedian?
Travel. It beats you up. I need my own jet!! Haha
You made a career out of telling the truth. What exactly is the truth to you?
The truth to me is what is similar to us all. What we all feel – experience.
Is the truth where you get your inspiration for your material?
All of my material is my life. What happens to me, my world. I don't create my jokes…I shape them out of what happens and what I see every day.
Having no filter – does that get you in trouble?
My personality can be a lot for some people to get used to. I just say stuff sometimes but I don't get into trouble so much as to stop the conversation.
Do you have a pretty big St. Louis fan base?
I have no idea how large or small my St. Louis fan base is…I hope that it includes peeps from the entire LGBT community and straighties too!!!
What do you look forward to the most about St. Louis PrideFest?
I, just hoping to be able to get everyone laughing and really enjoying STL pride. It's their day, it should be special….I want so much to be a part of that. To bring that to everyone who attends pride!!!