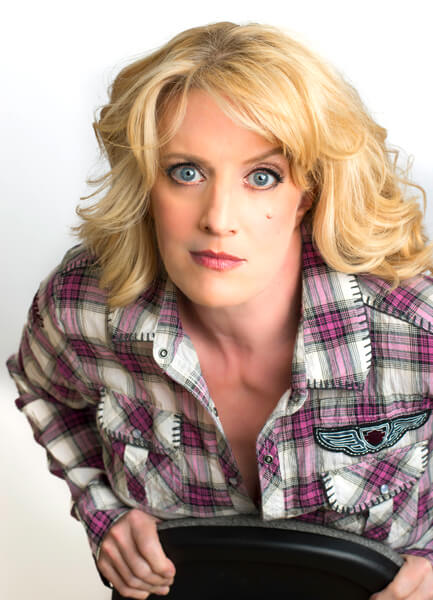 Originally published by Queer PGH on February 8th, 2017
By Rachel Lange
Suzanne Westenhoefer was one of the first out and proud people to grace our television sets in the 1990's. These were the days before Ellen, Will & Grace, and Queer Eye. She is just as funny and relevant as she was 25 years ago. Ahead of her iCandy show in Pittsburgh, QueerPGH got a chance to ask about her experiences in showbiz, the Women's March in Los Angeles and her feelings about our current political situation.Suzanne Westenhoefer
QueerPGH: We look forward to having you back in Pittsburgh! Welcome! You tweeted a new word the other day, 'smad'. It feels pretty accurate for most people today. How are you coping with your smadness?
Westenhoefer: I think I invented "smad" (sad+angry) because every once in a while the English language fails us. And, with the election of the orange Cheeto, we need new words. I'm staying informed and ready to march, sit-in etc., if that's coping.
QueerPGH: What keeps you funny when you want to be 'smad'?
Westenhoefer: Funny is my default emotion. I'm smad as hell, but it's natural for me to see the dark, silly, or weird of what's happening in my world. I talk out loud or write down those thoughts. Nothing is more cathartic for me than doing a show.
QueerPGH: How was your march?
Westenhoefer: I marched here in LA and it was fantastic. And surprising! LA is constantly accused of being shallow and non-political, but more than half a million people came out! I was thrilled to see women, men, black, Asian, Latina, young, old …I honestly cannot think of one group not represented. So many that we couldn't actually march….we just ambled back and forth, laughing and cheering signs and speakers.
QueerPGH: You're on tour—has the vibe changed since the election?
Westenhoefer: Right after the election, my shows were rough. People were ready and needed to laugh, but the expectation was too high. I couldn't "make it not be happening." Slowly, we are understanding we can laugh. Healing makes us stronger. It's not unlike the shock we felt, as a nation, after 9/11. All those clichés are true; we rise, and I'm determined to have us laughing as we do.
QueerPGH: How do you (and we) keep laughing at a time like this? To what extent can comedy help us deal with our current situation?
Westenhoefer: We must use laughter/comedy as a panacea for our hearts. There are people who want to crush us and keep us down. If we are filled with the helium of giggles, they can't.
QueerPGH: You've been an out comedian since the 1990's. I remember watching you on TV back then, as a high school kid. There weren't many queer people on TV, but for some reason, stand up specials were an exception. Can you talk a little about what it was like to come out in showbiz at that time?
Westenhoefer: I started stand-up as an open lesbian in 1990. Until the famous folks (Melissa, kd, Ellen) came out in the mid 90's, I was "encouraged " to not talk about it. But comics have always been rule breakers, court jesters, so I continued on. Ultimately, getting people to laugh was how I survived.
QueerPGH: How have things changed for queer people in your line of work? For women? Is it getting better?
Westenhoefer: Obviously, it has gotten better for openly gay stand-ups and I think we can see, with this election, that bigots are out there and now they have a leader. What has to happen now is that everyone, not just the old-school activists, must be out about our disapproval of this administration. We, of the LGBTQ community, know how to come out, protest, organize, etc., and we must teach our hetero friends these skills. Coming out. It's not just for queers anymore.
QueerPGH: I've heard you say that no two of your shows is the same, that you change your act every night. How does that work? What can the audience expect at your show on the 17th at Cattivo?
Westenhoefer: I work off-the-cuff, so the topics and stories of my show change as life does. I'm not a comic who has a memorized act so what you hear is what I'm thinking/feeling/experiencing at that time. Expect me to be a funny, native, smad, PA gal.
Catch Suzanne's show on the smoke-free lower level of Cattivo on February 17th at 8:15pm. Tickets are available here, and at the door, but these shows tend to sell out!