Originally published by Metro Weekly on October 26, 2017.
Suzanne Westenhoefer has come a long way as an openly gay comic pioneer
By Doug Rule @ruleonwriting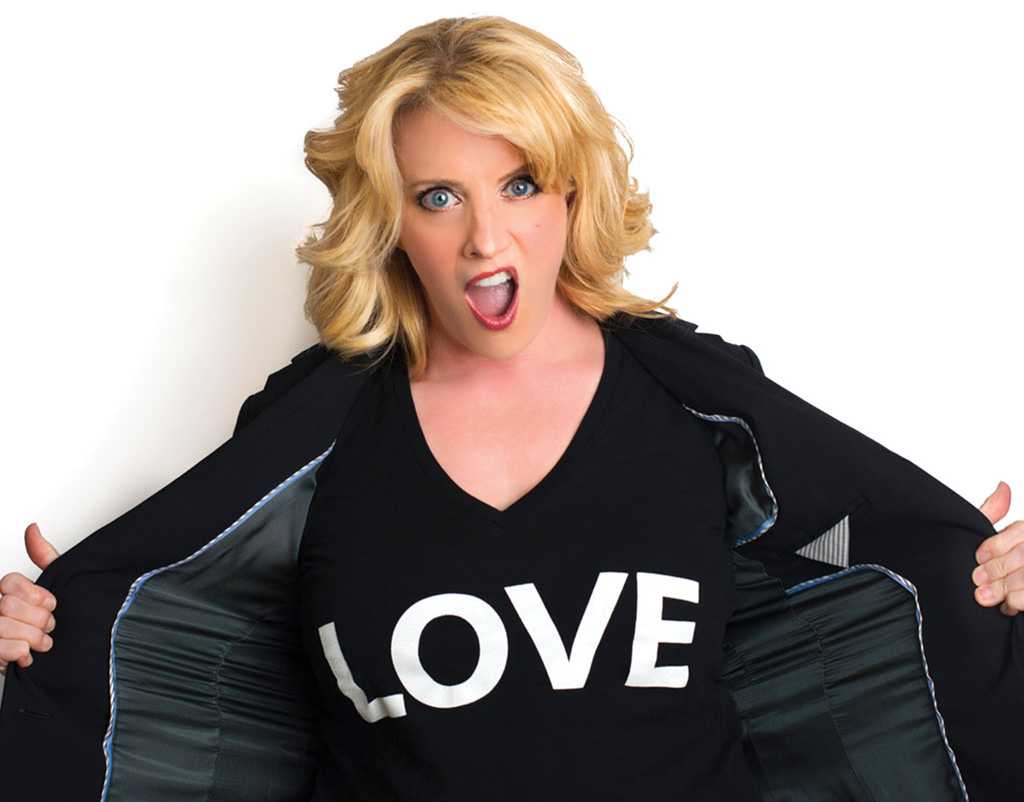 Suzanne Westenhoefer – Photo: Ellie Perez
"I don't even know if it's something to joke about," says Suzanne Westenhoefer. "Is it?"
The veteran comic is well-known for being able to crack jokes over just about anything — even sensitive matters like cancer and chemotherapy. But at the present moment, she is still in shock over the sudden loss of her cat.
"I'm in complete denial because it was so awful, so fast," she says. "He was sick Thursday night for the first time…. It was so weird. He's 12 years old, not super old, he's never been sick." A prompt visit to the vet confirmed there was a fatal problem, with only two possible outcomes for Westenhoefer and her partner: "'He's dying. Do you want to put him down or do you want to spend thousands of dollars to find out why?' That's basically what we got told.
"This is the first time in my adult life that I've ever had just one animal in the house, and now I have no animal," she continues. "This isn't gonna last, you know it. First of all, we're lesbians. We'll probably get two cats. We'll have to rescue. But we're in that odd little space where I've never been before."
Suzanne Westenhoefer, All new comedy show! Friday, October 27, 7:30pm. At the Birchmere.
Westenhoefer probably won't share any of that in her stand-up act, including her annual return to the Birchmere this Friday, Oct. 27. "Unless I've already rescued a cat by the show, I don't see how I can talk about it," she says.
Instead, Westenhoefer will draw on other aspects of her life, including being one of the very first openly gay comedians in 1990. Back then, Westenhoefer couldn't talk about being gay without "all these kind of explaining jokes: What it means to be queer." She used to joke that "we need someone to interpret for the homosexually impaired."
She's also likely to rib a bit on her sister, who is expected to be in the audience. Although two years older, Joan didn't come out as a lesbian until almost a decade after Westenhoefer.
"What's funny about that now is, she was the one who played field hockey and didn't want to date boys, [wore] boy jeans, and had the special girlfriend," Westenhoefer says. "All that stuff. So she looked like the stereotype of who's gonna be a lesbian, whereas I was sort of slutty and I liked guys and I had makeup and I never played sports."
Even today, her sister still checks more boxes: "She came out, met one girl, they're still together. They got married two years ago in Rehoboth Beach. She's a vegetarian! I mean, literally she drives a Subaru. I am not lying. These are all actual truths."
Suzanne Westenhoefer performs Friday, Oct. 27, at 7:30 p.m., at the Birchmere, 3701 Mount Vernon Ave., Alexandria. Tickets are $45. Call 703-549-7500 or visit birchmere.com.